Pressure Washing Sandy Springs, GA
You deserve to live in a lovely, tidy house. If you need your home's exterior cleaned, you can rely on Aqua-Nomics' soft-wash procedure to make it shine like new. Our Soft-wash procedure is approved by GAF and the Asphalt Roofing Manufacturers Association, so you can rest assured that you're getting the safest and most effective roof cleaning in North Georgia. We use a biodegradable chemical treatment to effectively eradicate all of the mildew, algae, mold, and underlying bacteria that cause black streaks on your roof. Mold, mildew, and dirt will be eliminated, leaving the outside of your property clean and attractive. Removing organic material accumulation from your siding extends its life and reduces future repair expenses.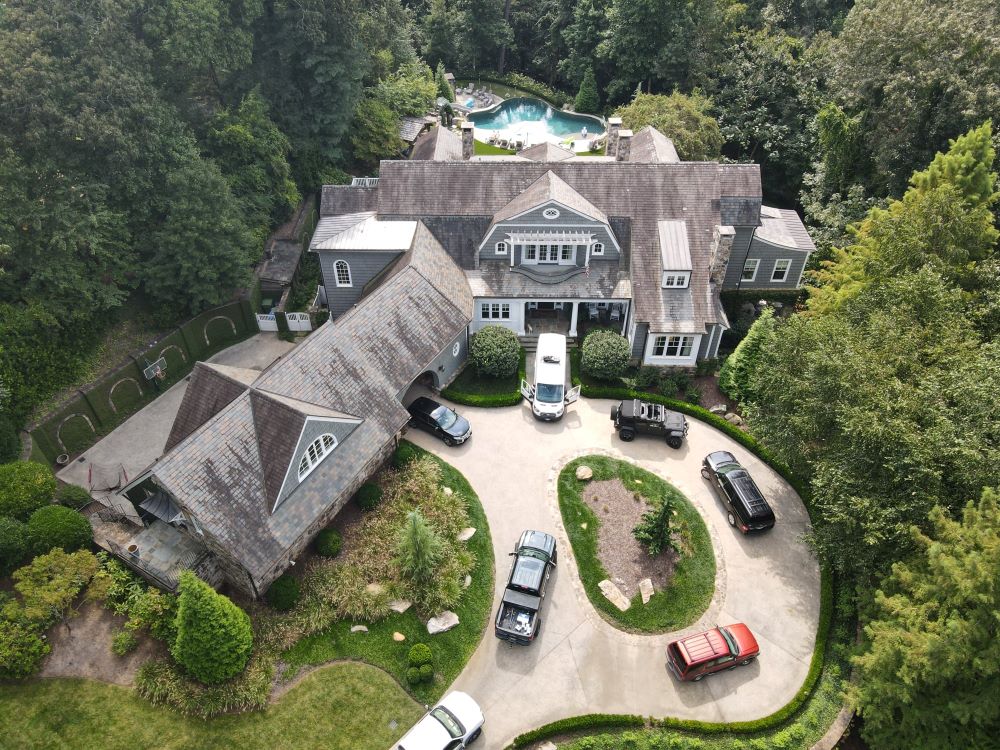 Why should you select Aqua-Nomics for your Sandy Springs house cleaning needs? We are a family-owned business that has been serving Georgia for many years. Our company has an A+ rating on Angie's List, and we provide an industry-leading guarantee. Aqua-Nomics guarantees to handle your property as if it were our own. Our team members are professionally qualified Pressure Washing Resource Association members, and we use safe, eco-friendly, biodegradable cleaners while caring for your home, plants, and décor. To book a free, no-obligation consultation, call (678)778-2998 or email info@Aqua-Nomics.com.
Roof Cleaning Service Sandy Springs, GA
Power Washing vs Soft Washing
Many people mix up power washing and soft washing, but the distinction is important! Avoid using excessive pressure to clean your roof. Pressure washers will remove shingles grains and destroy protective layers, hastening the degradation of the roof. While it may look cleaner, you will reduce the roof's lifespan and possibly void the manufacturer's warranty! Our no-pressure Soft-wash System is the most effective approach for washing your roof thoroughly.
Which Roof Cleaning Products Do You Want?
If you see unsightly black streaks on your roof, the only method to remove them is to wash them off. Gloeocapsa Magma, a type of bacteria, is responsible for these stains. This algae-like microbe feeds on the filler found in asphalt shingles. It thrives in humid climates and has become a common problem in Georgia. You need roof cleaning solutions that can remove harmful microorganisms like these. Aqua-Nomics' technicians create our cleaning solution to clean your roof exactly how it needs to be cleaned.
Our Exterior Cleaning Process in Sandy Springs, GA
The procedure begins with a free, no-obligation consultation. We examine the outside of your house to detect any possible problem spots. Then we go further and develop an action plan so that you know exactly what we're going to accomplish. The next step is to shield your house and garden from our equipment by placing towels near doors and covering plants. We begin washing as soon as we are ready! We employ a soft washing method known as "Smart Washing." Mold, mildew, dirt, cobwebs, pollen, and other particles are removed using low pressure and a combination of cleaning chemicals. All cleansers are blended on-site to ensure that we utilize the right amount. This procedure has been developed over many years, and the results speak for themselves. Make an appointment with us now!
FAQs About Pressure Washing & Roof Cleaning in Sandy Springs, GA