Pressure Washing Lawrenceville, GA
The difference between a dirty house and a clean house is evident from the street. If you need your house cleaned, trust Aqua-Nomics' soft-wash process to make your home's exterior shiny and new. Our soft-wash process for exterior cleaning and roof cleaning will clean your property and will not void your shingle manufacturer's warranty.  It is approved by most major shingle manufacturers, including GAF and the Asphalt Roofing Manufacturers Association, so you can be confident that you are receiving the safest and most effective roof-cleaning and exterior cleaning process in North Georgia. Our biodegradable chemical treatment efficiently destroys all mildew, algae, mold, and underlying bacteria that form black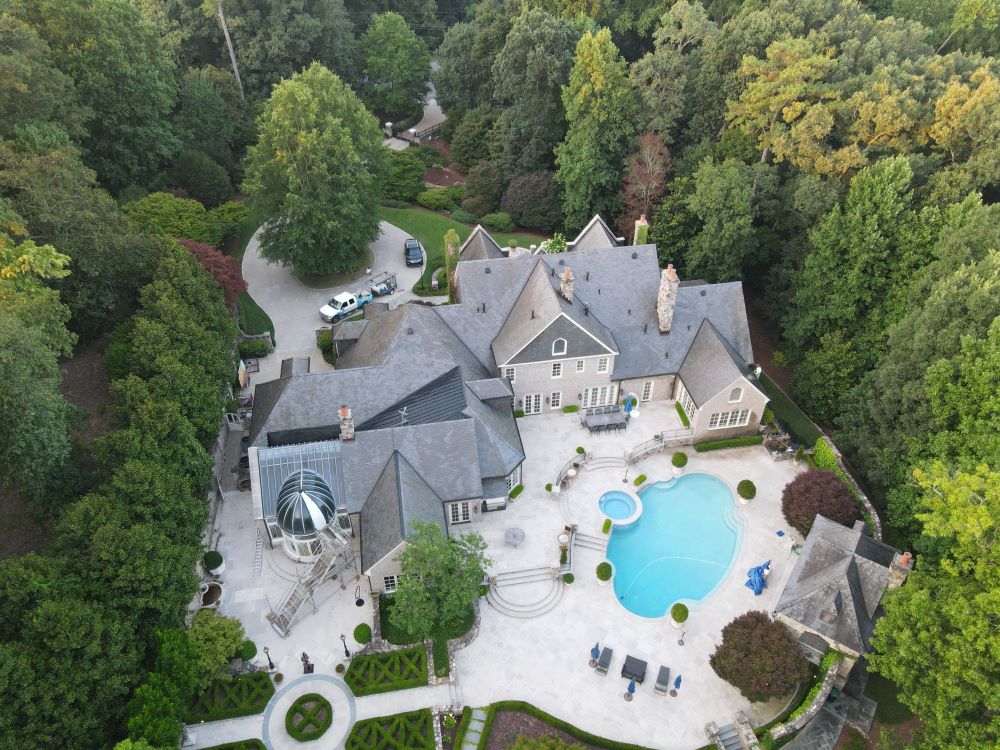 streaks on your roof as well as on the siding of your property.  This leaves your home's exterior clean and appealing. Removing organic material buildup from your roof and siding will also improve the life of the material and minimize future repair costs.
Why should you choose Aqua-Nomics for your Lawrenceville home? We are a family-owned company that has served the metro Atlanta area in Georgia for over 13 years. Our 5 Star and A+ ratings along with our 100% satisfaction guarantee will give you the confidence to use Aqua-Nomics for pressure washing in Lawrenceville. Aqua-Nomics promises to treat your property as we would our own. Our team members are professionally certified members of the Pressure Washing Resource Association, and we utilize safe, eco-friendly, biodegradable cleansers while cleaning your property.  We take extra care of your house, plants, and décor. Visit us at www.Aqua-Nomics.com, call (678)778-2998, or email info@Aqua-Nomics.com to request a free, no-obligation quote.
Roof Cleaning Service Lawrenceville, GA
Power Washing vs. Soft Washing
Many confuse power washing with soft washing, but they are very different.  You should never clean your roof or the siding of your house with high pressure. Pressure washers will blast off your siding as well as the grains of the shingles.  On your roof, this degrades protective layers and leads to hastening roof disintegration. While it may appear cleaner, you are lowering the roof's life and potentially voiding the manufacturer's warranty.  Our no-pressure Soft-wash System is the best way to clean your roof and the exterior of your property the correct way.
Which Roof Cleaning Products Do You Want?
If you notice ugly black streaks on your roof, washing your roof is the only way to get rid of them, and that's using our soft-wash chemical treatment. These stains are caused by a bacteria called Gloeocapsa Magma. This bacteria grows in humid environments and feeds on the limestone containted in every type of asphalt shingle. The professionals at Aqua-Nomics customize our cleaning solution so that we can clean your roof exactly how it needs to be cleaned, using our low pressure cleaning methods.
Our Exterior Cleaning Process in Lawrenceville, GA
The process starts with a no-cost, no-obligation quote. We will review outside of your home which will allow us to provide you with your quote. Once your quote has been approved and our technicians arrive, we create an action plan so that you have clear expectations of our processes.  Our soft washing technique uses low pressure and a unique blend of cleaning detergents to eliminate mold, mildew, dirt, cobwebs, pollen, and other debris. All cleaners are mixed on-site to ensure that we use the correct concentration. We've refined this process over many years, and the results speak for themselves. Request your no obligation quote today!
FAQs About Pressure Washing & Roof Cleaning in Lawrenceville, GA