What's Eating Your Roof? Not Just Dirt. It's Time for a Roof Cleaning!
While a roof on a commercial building may not always be visible to the public the way a residential roof is, it is still vitally important to have it cleaned. Regular commercial roof maintenance performed by experienced professionals ensures the longevity of your roof and significantly lowers the chances of having to make costly repairs at some point in the future.
The team at Aqua-Nomics has the experience & proper equipment to safely care for your commercial roof with one-time or regular, quarterly contracts.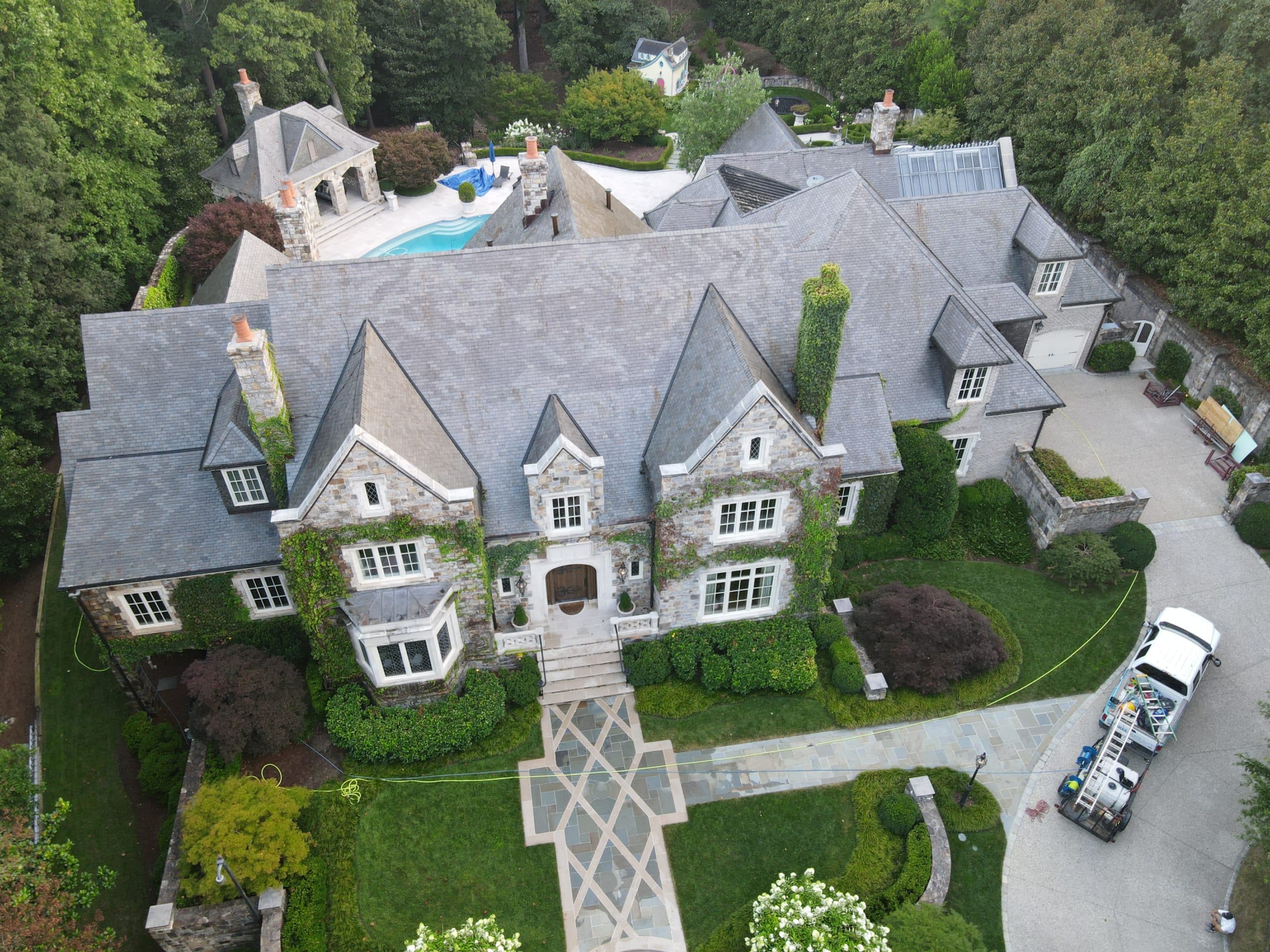 Why Commercial Roof Cleaning is Important
For starters, a clean roof is a roof that performs well in terms of both prolonged life and energy efficiency. Keeping a commercial roof clean helps rooftop HVAC systems perform their jobs more efficiently as well, ensuring better temperature inside the building with less energy.
Keeping the roof clean of debris and other substances also serves to both eliminate moisture that could rust or ruin roofing materials, and reduce the risk of fire hazards caused by flammable debris or substances.
Aqua-Nomics' commercial roof cleaning crew can also spot potential roof damage & notify you before it becomes a large problem, saving you time, money, and lots of frustration!
Why is Soft-Wash Better Than High-Pressure?
High pressure washes can do more harm than good. Roofing materials can be easily damaged by a high pressure wash, and although your roof may look clean, there is likely to be a reduction in the life of the roof.
Whether you are seeking to make a great first impression on new potential customers, or you want to properly maintain the life and performance of your roof (or both!), contact Aqua-Nomics today to receive a free quote for commercial roof cleaning services.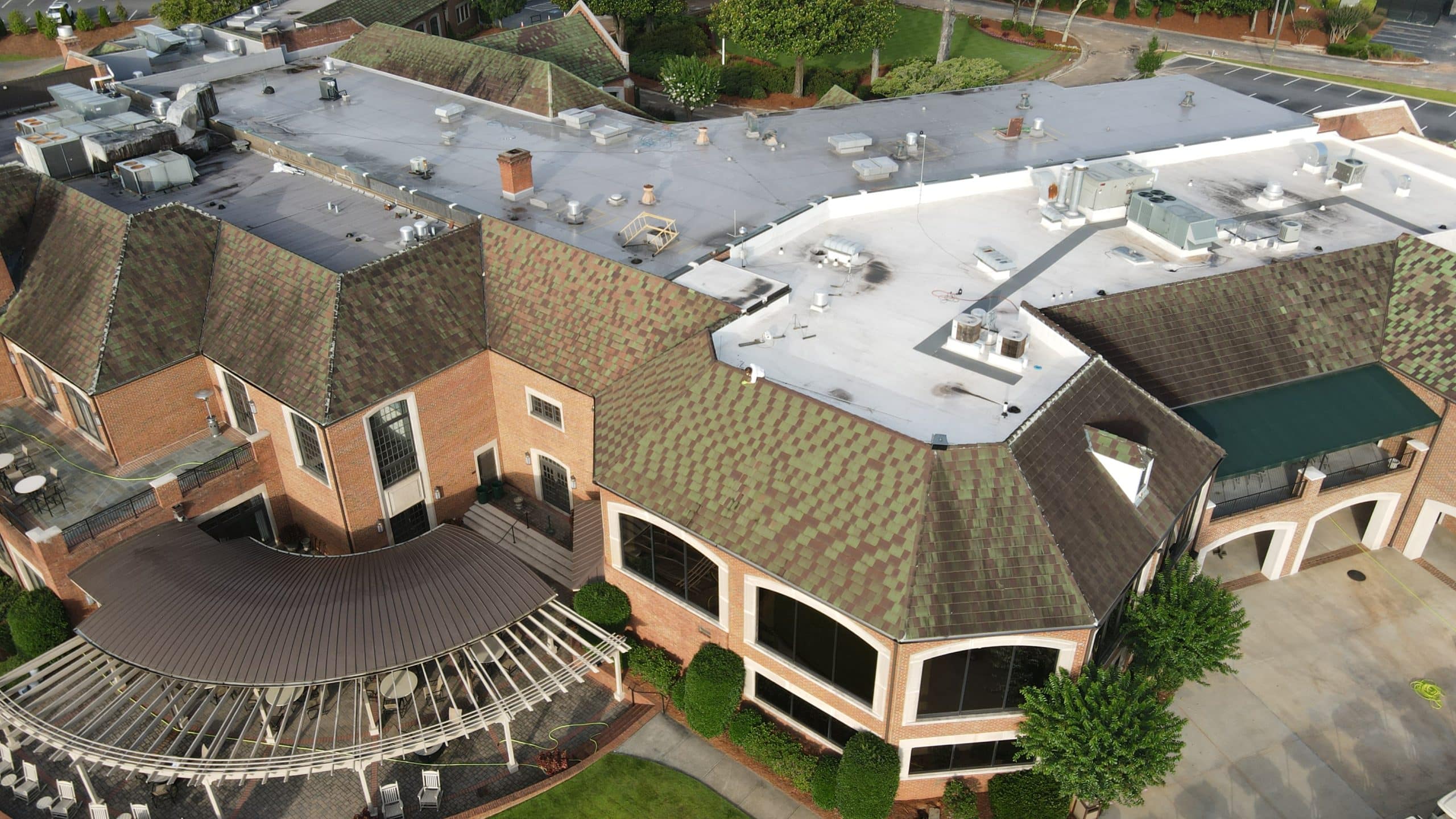 Why Choose Aqua-Nomics for Commercial Roof Cleaning Services?
Our experienced, licensed, certified, and knowledgeable roof cleaning technicians can ensure your roof is cleaned properly and efficiently. Our team is capable of cleaning all types of commercial roofing, including:
Clay Tile Roofing
Slate Roofing
Cedar Shake Roofing
BUR Membrane Roofing
Metal Roofing
Thermoplastic (PVC & TPO) Membrane Roofing
Thermoset (EPDM) Membrane Roofing
Spray Polyurethane Foam (SPF) Roofing
Single Ply Membrane Roofing
Shingle Roofing
We also utilize a unique no-pressure soft-wash process to clean your roof. This biodegradable chemical can safely kill all the mold, mildew, algae, and underlying bacteria that can damage your roof if left untreated. The soft-wash process delivers longer-lasting results, a damage-free clean, and we offer an exclusive 5-year warranty on our roof cleaning services.
Lengthen the life of your roof and prevent maintenance issues by scheduling a professional commercial roof cleaning today!