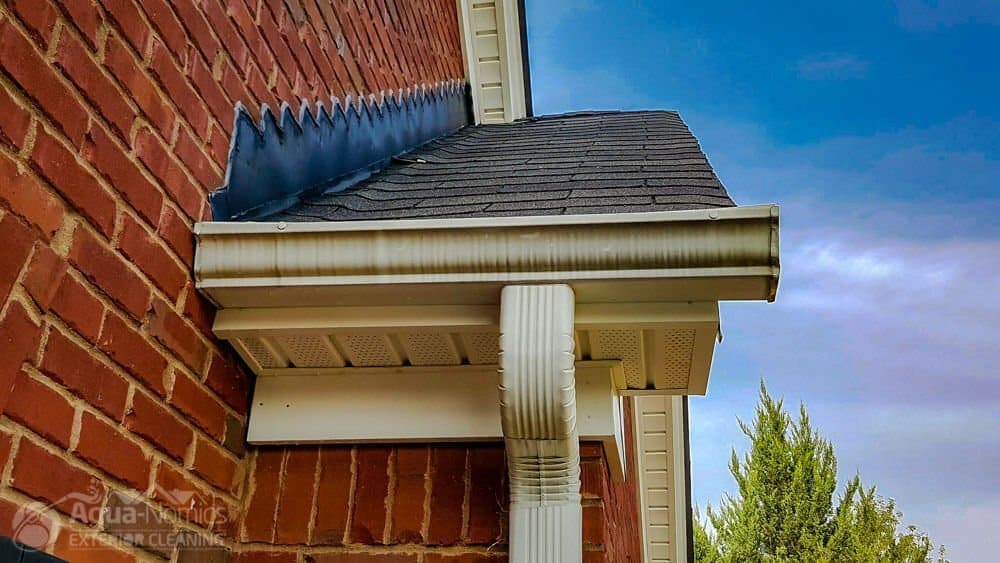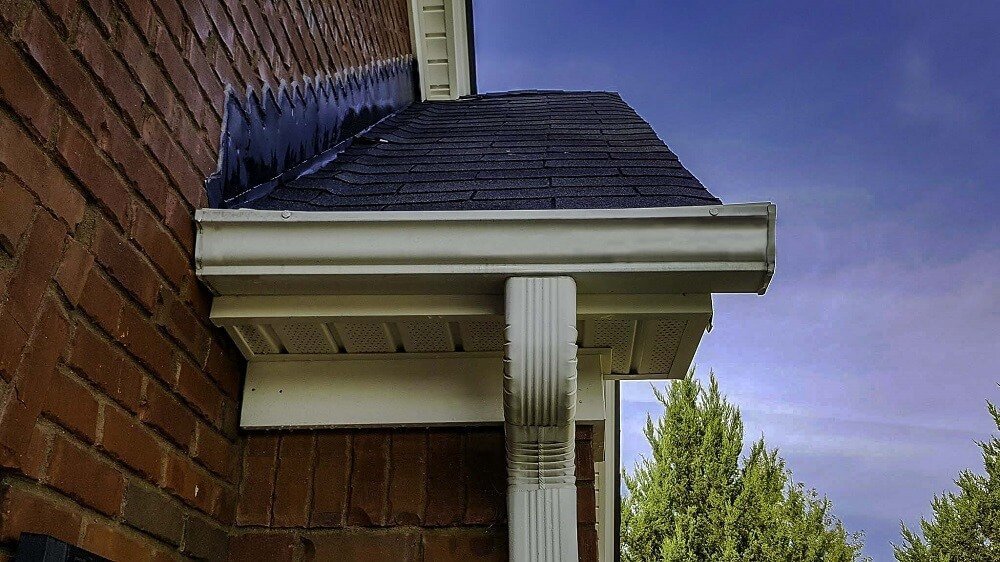 "Gutter cleaning" is a common term, but sometimes can be confusing, because folks may mean two different things by it – either cleaning out debris from the inside of gutters (which is the more common use) or scrubbing the outside face of the gutters. We offer both services, so for clarity, we refer to these as "Gutter Flushing" and "Gutter Brightening", respectively.
Clogged gutters can cause all kinds of problems, such as:
Drooping or ruined gutters

Damage to siding

Water leaks
Our Gutter Flushing service* clears out debris and downspouts using blowers and/or our pressurized gutter ball cleaning system. If gutters are extremely clogged, we even clean them by hand. We also rinse the gutter fascia afterward, if needed, from any dirt spill-over.
Gutter Brightening (Fascia)
You may notice some dark streaks on your gutters, often called "tiger striping." This is a stain caused by shingle runoff and pollutants, which eventually bond to aluminum gutters. These start as small grey lines, but if unattended too long, eventually can turn the whole gutter dark.
Our Gutter Brightening service is designed to remove these dark streaks/stains from gutters. Normal cleaners, bleach, and even our special House Soft-wash detergents have almost no effect on these. Using the wrong cleaner can dull the finish or remove paint! This stain has to be chemically unbonded, which can only be done using our special butyl-based solvent and hand-scrubbing.
Sometimes, even for us professionals, it's hard to tell how much of your gutter is grey from mildew and how much is grey from "tiger stripe" stains. Mildew, of course, comes off with our Soft-washing process. As a general rule, we recommend Soft-washing your home first – white gutters typically improve between 40% - 80%. If the gutters still bother you, we're happy to give you a quote and complete our Gutter Brightening service.
Our paint-safe gutter brightening solution makes gutters look almost new again!
Gutters Brightening is an optional service, with either Basic or Deluxe packages.
Benefits of Gutter Cleaning
Uniform & efficient cleaning
Damage-free, mess-free
Complete mold & mildew elimination (with Concrete Bright)
Longer lasting results (with Concrete Bright)
At Aqua-Nomics, we have the proper tools, knowledge, and experience to ensure your concrete, brick & stone is properly cleaned and maintained -- every time.