The exterior appearance of a business has a big impact on potential customers. Consumer studies show that more than 50% of shoppers have decided not to enter a business due to its dirty storefront. Plus, an unappealing outer impression has deterred more than two-thirds of would-be shoppers. So, the importance of a shopping center cleaning is clear.
We understand that key element of customer service and sales at Aqua-Nomics Exterior Cleaning. That's why our pressure washing services include deep cleaning for commercial businesses that deliver inviting, pristine outer surfaces. Give your shopping center a facelift with concrete cleaning, building washing, roof cleaning, graffiti removal, and sign washing from our cleaning pros.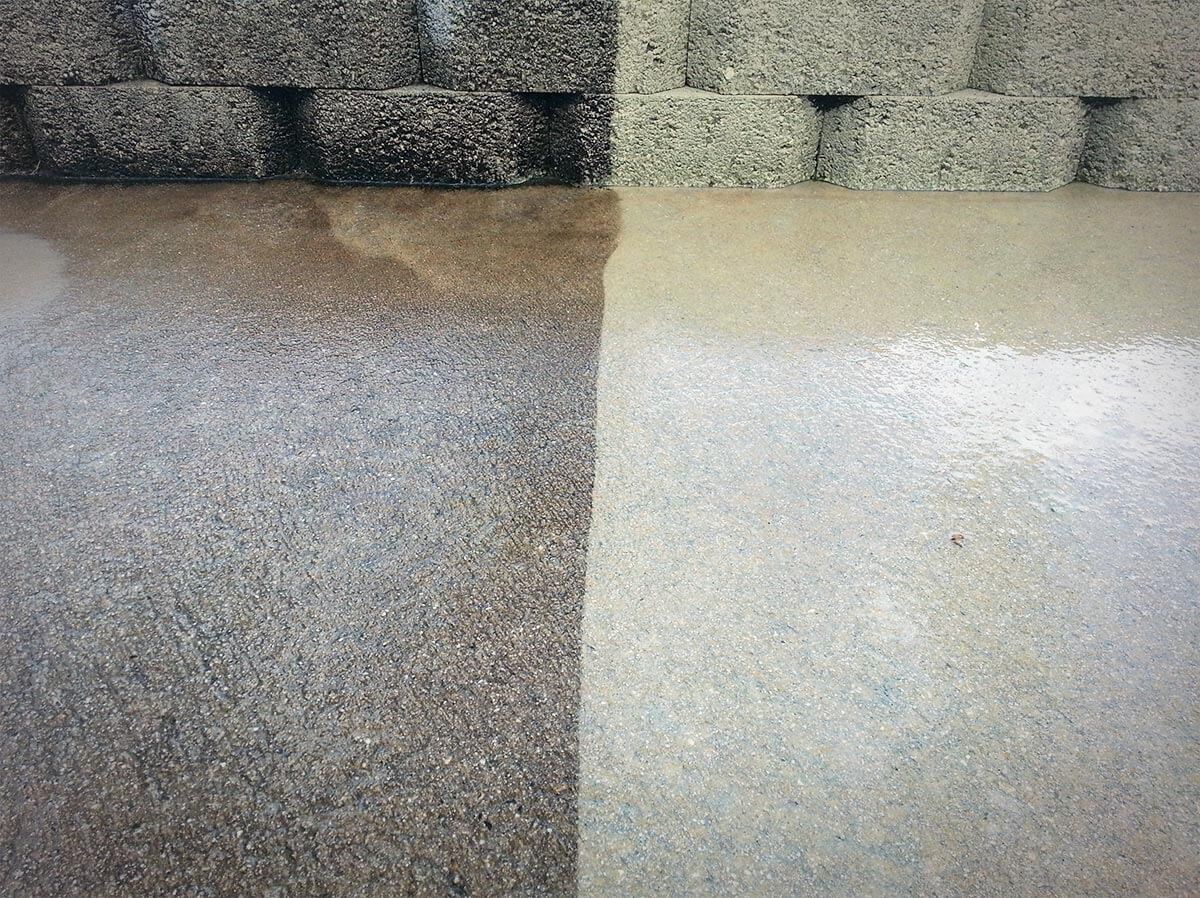 Get rid of unsightly and hazardous grease stains and oil slicks in the parking areas and outside your restaurants. Remove dirt, grime, gum and other debris from sidewalks, concrete patios, common areas, and other high traffic concrete features.
Renew the look of your storefronts, entryways, canopies, loading docks, and other shopping center facades with our skilled pressure washing services. We wash away mildew, stains, and the muck that builds up on buildings in our steamy Georgia climate.
We work on a vast range of surface materials:
 Brick
 Granite
 Stone
 Block
 Marble
 Vinyl
 Wood
 Travertine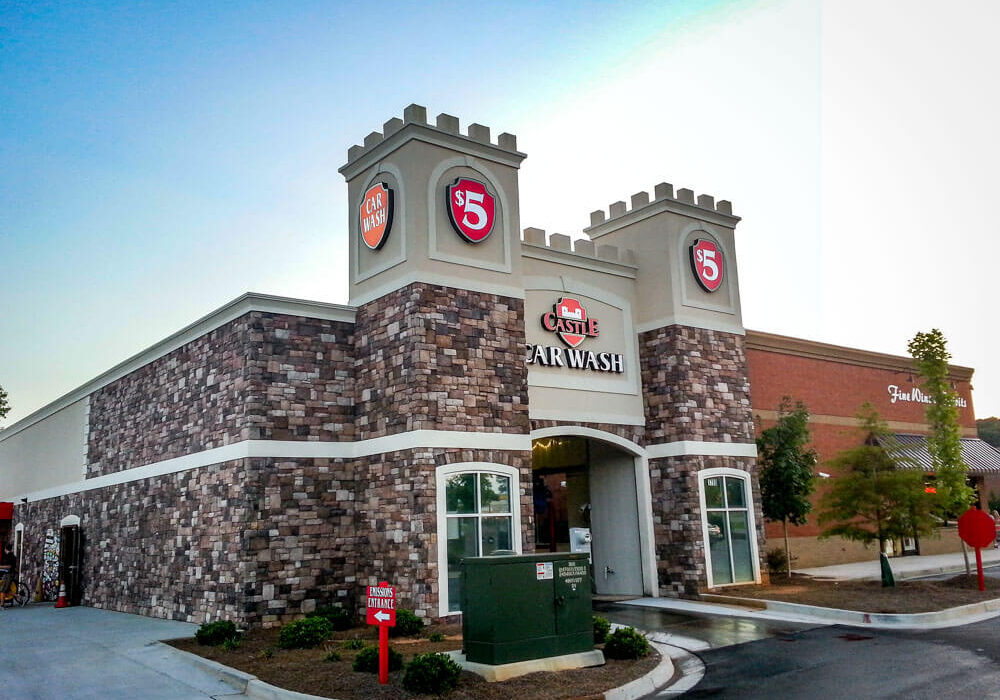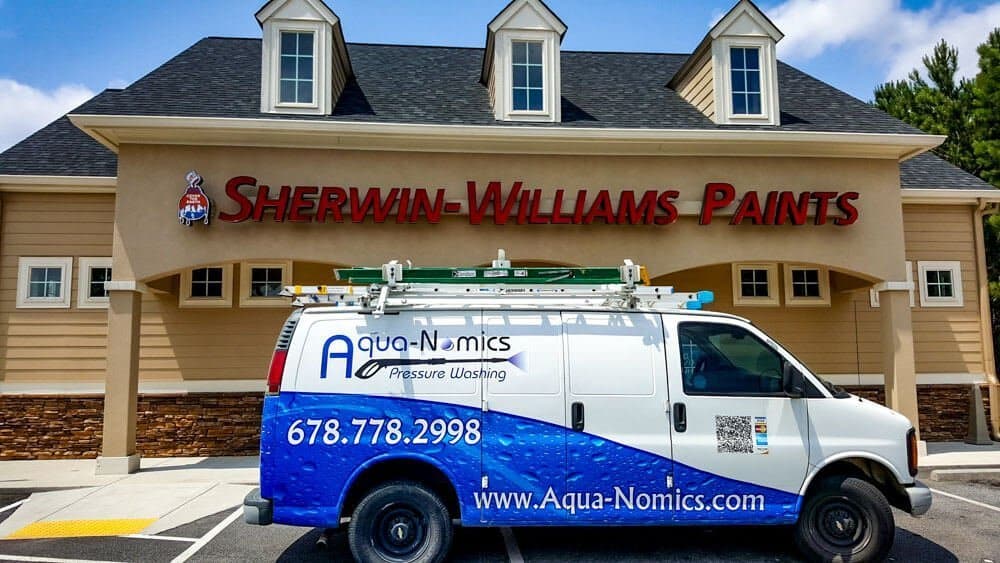 Protect your roofs and help extend the life of your investment with soft wash commercial roof cleaning. We use safe but effective detergents and gentle pressure washing streams to kill algae, moss, mold, and the gleocapsa magma that's to blame for those ugly dark streaks on asphalt roof shingles.
Deter more vandalism, maintain your property values, and show customers the pride you have in your business by removing unwelcome, harmful, and offensive graffiti. Our graffiti removal technicians get rid of many different types of paint from several kinds of outer surfaces. We can give your concrete, brick and mortar, metal, plastic, and wood surfaces a unspoiled, new appearance.
Signage is an essential part of attracting business to your strip mall or shopping center and preserving a positive brand image. Our pressure washing techniques remove dirt and debris, transforming your signs into shiny, welcoming beacons that consumers can read easily from far away.
Timely & Experienced Pressure Washing Services
No one welcomes business disruptions that can drive away sales and lessen customer satisfaction. Consider how you and your customers feel when you're trying to reach a commercial destination that's surrounded by construction — frustrated and annoyed. But, that's never the case with the Aqua-Nomics cleaning team. Our services induce smiles and top satisfaction.
We work to accommodate your schedule to avoid interfering with your shopping center or strip mall customer traffic. Working quickly and efficiently, our cleaning technicians give your exterior surfaces a deep clean you and your visitors notice immediately. And as experienced professionals, our technicians are always courteous and respectful when encountering a guest on your property.
Call 678-778-2998 or request a free estimate online from Aqua-Nomics Exterior Cleaning for your North Georgia Shopping Center. See the difference our award-winning services can make for your business!
Shopping Center Cleaning Gallery